Athlete credits Sanford Sports for positive physical therapy experience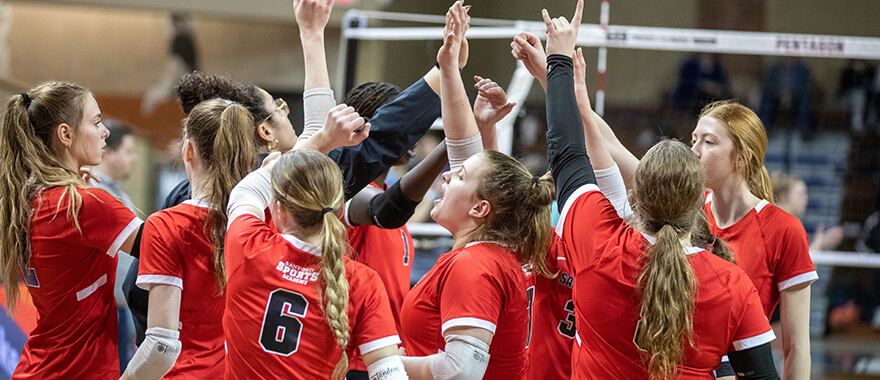 When an athlete suffers a serious injury, they often question if they'll ever get to play the sport they love again.
That is what was going through Meghan Tiahrt's mind when she suffered a torn ACL and MCL at volleyball practice.
"My first thought was rather horrifying," Tiahrt said. "I asked myself, 'How am I ever going to play again?' I honestly thought that it was going to be the end of my volleyball career."
But Tiahrt is back on the volleyball court thanks to her mental toughness and the physical therapy she received at the Sanford Fieldhouse.
"I'm so glad that I went to the Sanford Fieldhouse for physical therapy," Tiahrt said. "It was a great fit for my needs as an athlete. They aimed to get me back as soon as possible."
Tiahrt is a member of the volleyball program at the University of Nebraska Omaha. During her road to recovery, Tiahrt received treatments such as blood flow restriction. Tiahrt notes that the state-of-the-art equipment at the Sanford Fieldhouse also aided her rehab.
"I benefitted from the anti-gravity treadmill, the weight room and Biodex machine," Tiahrt said. "I think without those things my journey would have looked a lot different."
Relationships Matter
It was a long road to recovery for Tiahrt and her quest to get back to 100 percent. Along the way, there were a lot of dark days and challenges. She credits her physical therapist at Sanford Health for helping her get through those trying times.
"My physical therapist helped me get to where I am now," Tiahrt said. "He was very supportive and encouraging. He seemed very invested to help me along in my journey. I enjoyed going to physical therapy and working hard at all the sessions. I think that it has a lot to do with the therapist and provided therapy."
Tiahrt said that she'd recommend Sanford Sports physical therapy to athletes or anyone recovering from an injury.
"I would recommend it to others because it's structured, productive, professional and convenient," Tiahrt said. "I liked the flexibility and appointment availability considering I was a full-time student. If I were to ever need physical therapy again, I would choose this program because I know I would be in good hands."
Learn more about the physical therapy services offered at Sanford Sports.