Augustana athlete makes speedy recovery with physical therapy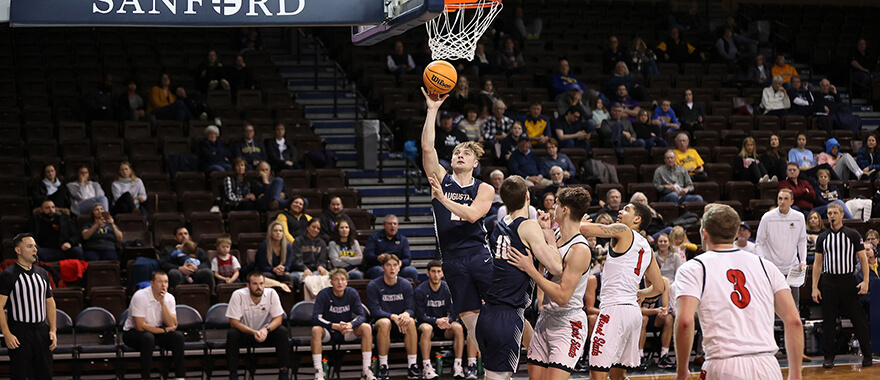 Sitting on the sidelines with a complex meniscus tear is not the way a collegiate athlete wants to start their season. But that was the situation Augustana University basketball player Isaac Fink found himself in when a pickup game with his teammates left his right knee injured.
After a successful surgery, Fink chose Sanford Sports for his recovery. He started working with sports physical therapy resident Connor Skoumal, and they set a goal to have Fink back on the court before the upcoming season.
"Connor did a fantastic job allowing me to have this goal while still maintaining realistic expectations," he said.
Fink's first treatments with Skoumal at the Sanford Fieldhouse were focused on gaining the strength back in his right calf, hamstring and quad, although they trained both sides of his body to prevent the healthy side from becoming weak.
Mental and physical workouts
But physical therapy wasn't a slam dunk right away for Fink. This was his first major injury, and like many athletes dealing with uncertainty, it was difficult to stay optimistic.
"There were a lot of therapy sessions where I came in with a pessimistic attitude," he said. "Any time you are going through a surgery like this, there will always be times where it's hard to stay positive. Struggling to walk when I have been an athlete all my life was a hard thing for me."
The one thing Fink was certain about, though, was never allowing negative thoughts to affect his recovery. He knew physical therapy would help him return to his college basketball career.
"Connor included multiple therapy sessions where I got to do exercises with a basketball," Fink said. "Even if the exercise did not pertain to basketball, he found a way to incorporate that because he saw how that would motivate me. Sports-specific training helped me see the end goal in the day-to-day exercises."
After months of hard work and perseverance, Fink was ready to get back on the hardwood before the upcoming season. He reached his goal and credited his relationship with Skoumal as a huge influence in his speedy recovery.
Fink said he would recommend Sanford Sports physical therapy to athletes or anyone recovering from an injury.
"The people that work there truly care about their patients and their success," he said. "I was able to see firsthand the benefits that come from Sanford Health and their sports therapy. I feel truly blessed that I decided to do my physical therapy there."
Learn more about the physical therapy services offered at Sanford Sports.