Speed up your recovery with blood flow restriction therapy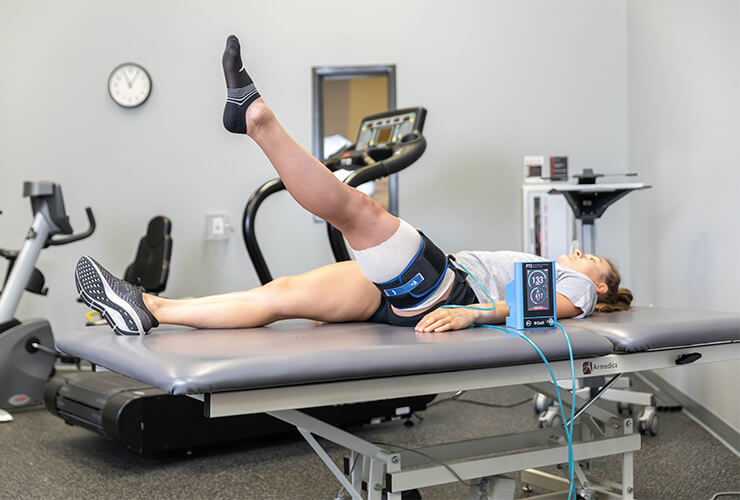 A major surgery or serious injury can throw a wrench in your training. Many recovery plans prohibit heavy lifting or high-intensity exercises.
These restrictions are for your own safety to prevent further injury. But they can leave you feeling sidelined.
Blood flow restriction (BFR) therapy can keep your training on track. Using BFR, you can do low-intensity exercises but get all the benefits of a more intense workout.
What is BFR Therapy?
It's a technique that uses a tourniquet to reduce the blood flow to a limb during exercise. Depending on where it's needed, your therapist will restrict around 50 to 80% of the blood flow.
"BFR, combined with low-intensity exercise, can increase strength and muscle size similar to that of high-intensity exercise. You definitely get more out of it than just low-intensity exercise alone," said Brandon Dirk, DPT, a physical therapist at Sanford Sports Performance.
BFR therapy is most helpful to people early in their recovery. It benefits athletes who need rehab after a fracture, trauma, surgery or injury.
Other groups who might use BFR therapy include those with osteoarthritis, chronic weakness, muscle strains or tendonitis.
BFR Therapy Benefits
After your BFR session, you'll experience less muscle soreness compared to a high-intensity workout. It can also be safer.
"BFR is safe as long as the patient has been cleared by their therapist and the therapy follows proper protocol with a medical-grade tourniquet system," Dirk said.
BFR training combined with low-intensity exercise doesn't increase muscle damage.
"BFR therapy has been rigorously studied. They've found that with correct implementation, there's no greater injury risk than traditional exercise," he said.
When BFR therapy is used correctly, patients also don't have an increased risk of blood clots or nerve damage.
How to Find an Expert
BFR therapy is a good choice for patients in the early stages of rehab. If you're interested, be sure to work with a trained professional.
Look for a physical therapist like Dirk, who's certified in BFR therapy. A good place to start is at your local Sanford Sports Performance Center.