Fargo Park District Foundation and Sanford Health announce partnership on state-of-the-art recreation and sports facility in South Fargo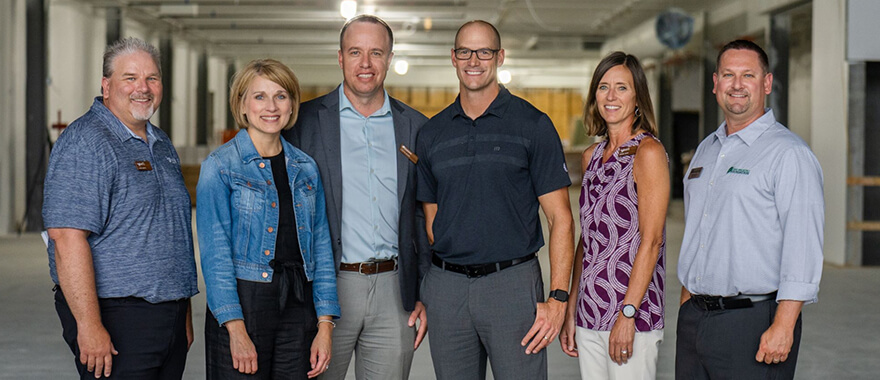 The state-of-the-art sports and recreation facility in South Fargo has a new name.
The Fargo Park District Foundation is thrilled to announce the entire complex will be known as the Sanford Sports Complex. The space, which spans more than 123 acres, is designated to enrich the lives of the Fargo community and the entire surrounding region. The indoor facility built on the complex property will be known as the Fargo Parks Sports Center at the Sanford Sports Complex.
"We are honored and proud to partner with the Fargo Park District on the Sanford Sports Complex," says Tiffany Lawrence, Sanford Health Fargo president and CEO. "Giving back in ways that champion health and wellness in our communities stems from our organization's history and culture and allows us to impact future generations."
The Fargo Park District Foundation has worked tirelessly to increase private sector support of the project to further the development, growth and excellence that will be provided there. A facility of this magnitude would not be possible without the generous support of partners such as Sanford Health and countless others.
"Sanford's partnership has been vital in realizing the vision for this forward-thinking project. Their strong support has been nothing short of extraordinary," says Craig Bjur, executive director of the Fargo Park District Foundation. "To date we have an additional 30 community partners who have provided support to get us to this point of being nine months away from opening Phase I of the building to our community. The outpouring of support for this impactful facility has been truly inspiring and we welcome other community partners to join us in delivering this project in 2024 to our region."
The Fargo Park District Foundation has secured nearly $34 million in private donations and over $11 million of in-kind gifts and services surpassing $45 million in value towards the Fargo Parks Sports Center project.
With the construction of Phase I slated to be completed in the spring of 2024, the Fargo Parks Sports Center will span more than 390,000 square feet and provide indoor space for more than 20,000 local children and over 20 community organizations. The facility is expected to attract over 1 million visitors annually and will provide a true multi-purpose space for Fargo residents and the entire region. Indoor amenities will include one full-size indoor multi-use turf field, an elevated indoor walking and running track, eight hardwood courts, two sheets of ice, six pickleball courts, three large multi-use community rooms, an indoor playground, Fargo Park District staff offices, and more. The Fargo Park District Foundation is continuing to explore opportunities for full naming sponsors of the indoor facility and its amenities.
The Sanford Sports Complex will be located at 6100 38 St. S., Fargo, ND 58122. For more information on the project, amenities, timelines, and more visit FargoParks.com/foundation or call 701-499-5887.
About the Fargo Park District Foundation
The Fargo Park District Foundation was founded in 2018 with the mission of enhancing the quality of life in the metro area through the development of modernized facilities, new programs and by offering great opportunities for all in the community. The Foundation pursues unique fundraising opportunities and works to increase private sector support to further the development, growth and excellence of the Fargo Park District by providing modernized facilities and quality recreation services. Current projects include the Fargo Parks Sports Center, Island Park Pool renovation, youth scholarship programs and more.
About Sanford Health
Sanford Health, the largest rural health system in the United States, is dedicated to transforming the healthcare experience and providing access to world-class healthcare in America's heartland. Headquartered in Sioux Falls, South Dakota, the organization serves more than one million patients and 220,000 health plan members across 250,000 square miles. The integrated health system has 47 medical centers, 2,800 Sanford physicians and advanced practice providers, 170 clinical investigators and research scientists, more than 200 Good Samaritan Society senior care locations and world clinics in 8 countries around the globe. Sanford Medical Center Fargo is home to the only level-one trauma center in North Dakota, which means Sanford Fargo provides the highest level of surgical care to trauma patients. Sanford Health provides orthopedic and sports medicine services for more than 35 schools and organizations in the Fargo region.
Sanford Sports is the modern athletics arm of Sanford Health, the premier rural health system in the United States. Rooted in science and health care, Sanford Sports offers a combination of programs, services, events, facilities and partnerships intended to make active lifestyles accessible and rewarding for people of all ages and abilities. Sports have been changing the way athletes play for 25 years. With operations in four states, more than one million athletes use Sanford Sports facilities each year. In the past year, Sanford Sports Performance has provided over 10,000 strength and conditioning athlete sessions, as well as over 10,000 sports physical therapy sessions to athletes in the Fargo metro. The Sanford Sports Academy in Fargo, which features basketball and golf, averages 500 athlete contacts per month.