Nebraska to face Oregon State in men's basketball at Sanford Pentagon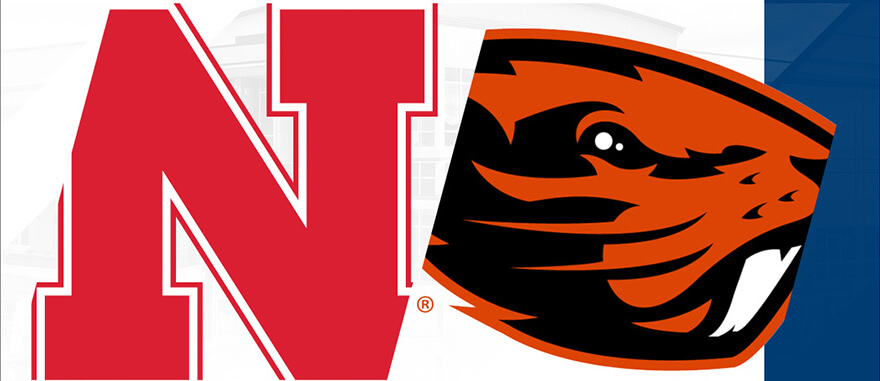 SIOUX FALLS, S.D. – The Nebraska Cornhuskers are returning to the Sanford Pentagon in 2023 for a non-conference matchup with the Oregon State Beavers on Nov. 18.
"There is nothing quite like the atmosphere in the Sanford Pentagon when two teams from major conferences face off on Heritage Court," said Jesse Smith, vice president of Sanford Sports. "We are thrilled to welcome the Nebraska Cornhuskers back to Sioux Falls and are equally as excited to showcase our venue to Oregon State and its fans for the first time."
This is the second time Nebraska will play at the Sanford Pentagon. On Dec. 16, 2018, the No. 25 Huskers defeated Oklahoma State 79-56. A member of the Big Ten Conference, Nebraska is coming off a 16-16 season, with a signature win on the road against eventual Elite Eight participant, No. 7 Creighton. Head coach Fred Hoiberg enters his fifth season at Nebraska.
Nebraska returns four players who started at least 12 games during the 2022-23 season. The Huskers finished on a high note last season, winning six of their final eight regular-season games, including three victories over teams that played in the NCAA Tournament.
"Playing at the Sanford Pentagon against Oregon State is a great opportunity for our basketball team," Nebraska Head Coach Fred Hoiberg said. "We are thankful to Sanford Sports for including the University of Nebraska in this game for a second time. We have a lot of alumni in the Sioux Falls area, so I expect there to be a lot of red and white in the crowd in November which will help make for a phenomenal atmosphere for a college basketball game."
This is the first trip to Heritage Court for Oregon State, members of the Pac 12 Conference. The Beavers finished the 2022-23 season with an 11-21 record. Head coach Wayne Tinkle enters his tenth season as head coach at Oregon State.
Tinkle coached one of the youngest teams in the nation in 2022-23, as over 50 percent of the teams' points came from freshmen - one of three Power 5 teams to do so. Jordan Pope earned Pac-12 All-Freshman honors, and Pope joined Tyler Bilodeau and Michael Rataj in scoring over six points per game, making Oregon State one of seven teams in the nation to have a trio of freshmen reach that mark.
"We're honored to have the opportunity to play in the tradition-rich Sanford Pentagon," said Oregon State Head Coach Wayne Tinkle. "Games at the Pentagon have become key single-game pre-season events over the past 10 years. Sanford is an incredible partner and the Pentagon is an unbelievable facility bred for hoops. Throw in the total support of the Sioux Falls community and this will prove to be a valuable experience for our program."
This year's contest will mark the 11th all-time meeting between Oregon State and Nebraska and the first since the 2009-10 campaign. The Beavers hold a 6-4 edge in the series.
Since opening in 2013, the Sanford Pentagon has hosted more than 80 Division I men's and women's college basketball games. Last December, the Pentagon hosted a rematch of the 2021 men's national championship game between No. 6 Baylor and No. 14 Gonzaga. Two weeks later, defending women's national champions and No. 1 ranked South Carolina defeated South Dakota State on Heritage Court.