11 Rep1 Sports athletes selected in the 2023 NFL Draft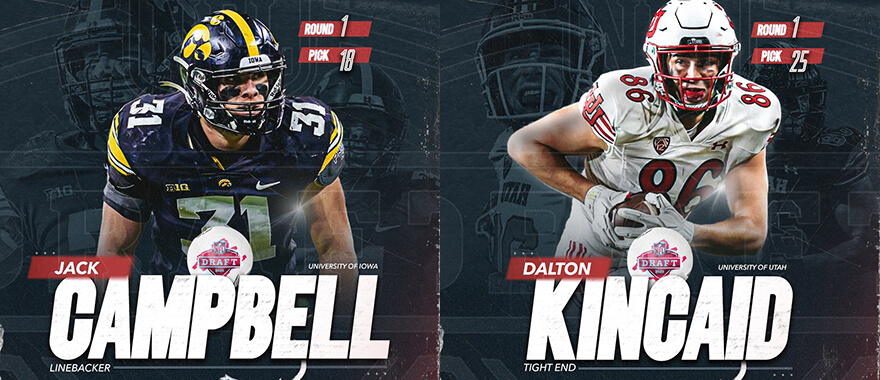 The 2023 NFL Draft has come to a close, and it was a historic one for Sanford Sports and REP1 Sports. With 11 athletes hearing their name called, this marks the largest number of players selected in a single draft since the partnership began.
Among the 11 draftees were two first-round picks, Jack Campbell and Dalton Kincaid. Let's take a closer look at the athletes and their potential impact in the NFL.
Jack Campbell | LB - Iowa | Detroit Lions
Round 1, Pick 18
"The more we evaluated him, the more his athleticism, versatility, and leadership qualities shone through," Brad Holmes, general manager of the Detroit Lions said. Campbell's dynamic skill set and physicality will be invaluable assets to a Lions team that is is on the rise.
🙌🙌🙌 pic.twitter.com/wdxqhFfmru

— Detroit Lions (@Lions) April 28, 2023
Dalton Kincaid | TE - Utah | Buffalo Bills
Round 1, Pick 25
Dalton Kincaid will bring even more firepower to an offense led by Pro Bowl quarterback Josh Allen. Bills Mafia is already buzzing on social media about Kincaid's potential to make an impact in the red zone and beyond, and with his size, speed, and pass-catching ability, he could be the perfect addition to help the Buffalo Bills make a deep playoff run.
QB1 has a new target. 🤩@Ticketmaster | #NFLDraft

— Buffalo Bills (@BuffaloBills) April 28, 2023
Matthew Bergeron | LT - Syracuse | Atlanta Falcons
Round 2, Pick 38
Matthew Bergeron is a promising addition to the Atlanta Falcons' offensive line, bringing depth and versatility to the team. With experience playing multiple positions in college and a strong work ethic, Bergeron is a dynamic prospect who could potentially make a significant impact on the field.
.@MatthewkBerger1 fits everything we're about pic.twitter.com/0rfBjlk6C9

— Atlanta Falcons (@AtlantaFalcons) April 29, 2023
Luke Musgrave | TE - Oregon State | Green Bay Packers
Round 2, Pick 42
Luke Musgrave's impressive combination of size, speed, and hands make him an exciting addition to the Green Bay Packers, and a potential game-changer at the tight end position. With his collegiate background as a track and field star, Musgrave's athleticism and work ethic make him a highly promising prospect for the Packers and a welcoming sight for quarterback Jordan Love in his first year as the starting quarterback.
"We're excited about what he brings to the table in terms of speed, the ability to stretch the field."#Packers add speedy TE @Luke_Musgrave19 in Round 2 📰 #PackersDraft | @meijer https://t.co/Ysup7jLs0v

— Green Bay Packers (@packers) April 29, 2023
Cody Mauch | OT - NDSU | Tampa Bay Buccaneers
Round 2, Pick 48
Cody Mauch's physicality, work ethic, and versatility make him an exciting addition to the Tampa Bay Buccaneers, and he's expected to bring much-needed depth to the team's offensive line. With his size and power, Mauch has the potential to be a dominant force on the field (and social media) for years to come.
Why did the Bucs like Cody Mauch so much? Their scouting report, of course, but it didn't hurt that everyone he faced at the Senior Bowl raved about how good he was. https://t.co/pnM0737Peo

— Scott Smith (@ScottSBucs) April 29, 2023
Blake Freeland | OL - BYU | Indianapolis Colts
Round 4, Pick 106
Blake Freeland's unique background as a former high school quarterback turned offensive lineman, combined with his impressive size, strength, and versatility, make him an incredibly exciting addition to the Indianapolis Colts. With experience at both tackle positions and an impressive track record of allowing zero sacks and only two penalties in 2022, Freeland's skill set is highly promising, and he could potentially make a significant impact on the Colts' offensive line.
Let's work. pic.twitter.com/NIIojcHVIQ

— Indianapolis Colts (@Colts) April 29, 2023
Junior Fehoko | DE - SJSU | Dallas Cowboys
Round 4, Pick 129
Junior Fehoko's impressive performance as the 2022 Mountain West Conference Defensive Player of the Year made him an undeniable standout in the league, and now as a member of the Dallas Cowboys, he's poised to bring that same level of skill and determination to the NFL. With 69 total tackles, 19 tackles for loss, and nine sacks to his name, Fehoko's ability to disrupt opposing offenses is nothing short of impressive.
Stacking more talent on defense with a special connection to another NFL defensive lineman.

Get the full scouting report for Viliami Fehoko out of @SanJoseStateFB. 📝🧐↓#CowboysDraft | @MillerLite

— Dallas Cowboys (@dallascowboys) April 29, 2023
Daniel Scott | S - Cal | Indianapolis Colts
Round 5, Pick 158
As a versatile safety who can make an immediate impact on special teams, Daniel Scott's dynamic skill set and impressive performance at the NFL Scouting Combine make him an exciting prospect to watch. He has the potential to contribute on both defense and special teams as a rookie.
Great Scott! #ForTheShoe pic.twitter.com/KFT3FDJ7Th

— Indianapolis Colts (@Colts) April 29, 2023
Jaren Hall | QB - BYU | Minnesota Vikings
Round 5, Pick 164
Jaren Hall's college stats speak for themselves, throwing for over 6,000 yards and 52 TDs, and as the backup to Kirk Cousins for the Vikings, he has the potential to be a game-changer. With his ability to extend plays and make accurate throws on the run, Hall brings a unique set of skills that make him an exciting prospect for the Vikings.
Playmaker. @jarenhall3

📷: https://t.co/RbZrxaMqBM pic.twitter.com/8G3AOYQeJe

— Minnesota Vikings (@Vikings) April 29, 2023
Ryan Hayes | OT - Michigan | Miami Dolphins
Round 7, Pick 238
Ryan Hayes is a dominant offensive tackle who possesses the athleticism and strength to excel at the next level. His impressive college career and unwavering work ethic make him a top prospect for the Miami Dolphins, and with his versatility and size, Hayes has the potential to make a significant impact for the team.
"Are you cool with us drafting you?" 😆

The moment @ryanhayes_7122 became a Miami Dolphin. pic.twitter.com/dZt685CKQO

— Miami Dolphins (@MiamiDolphins) April 30, 2023
Kendall Williamson | S - Stanford | Chicago Bears
Round 7, Pick 258
Kendall Williamson is a versatile defensive back who can play both cornerback and safety, bringing speed, agility, and athleticism to the Chicago Bears' secondary. With his experience as a team captain at Stanford and his impressive playmaking ability, Williamson has the potential to make a big impact in his rookie season.
No fly zone 🚫 pic.twitter.com/53FpnggybV

— Chicago Bears (@ChicagoBears) April 29, 2023