Sanford Sports Performance teams with Rep 1's 2023 NFL Draft Prospects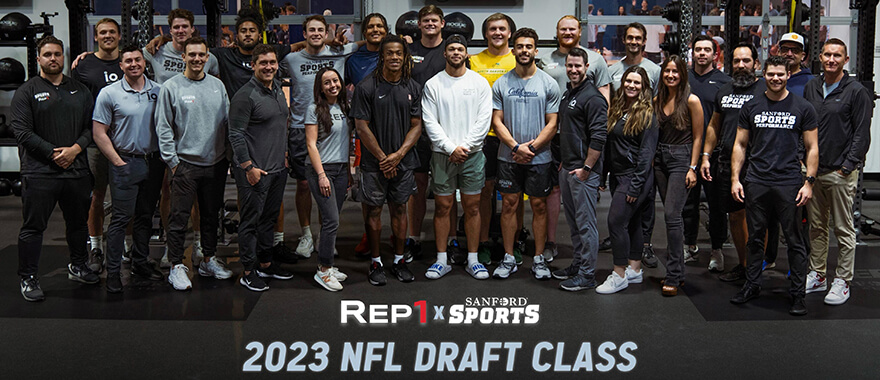 SIOUX FALLS, S.D. – Sanford Sports Performance, the region's premier sports performance training program, is supporting clients of REP 1 Sports as the professional football prospects prepare for the NFL combine. This is the fourth consecutive year Sanford Sports has worked with REP 1 Sports NFL prospects.
The pre-combine support includes providing expertise at REP 1 Sports headquarters in Irvine, California, along with access to services in Sioux Falls, South Dakota, including an elite-athlete physical.
"Working with the Sanford staff at their Sioux Falls training center and experiencing the Elite-Athlete Physical was the best way to jumpstart my NFL training program and take my performance on the field to the next level," said former University of Iowa linebacker Jack Campbell.
"Our Sanford Sports Performance team has a history of working with elite, professional athletes, and we're excited to assist these young men on their journey to the NFL," said Steve Young, president of Sanford Sports. "REP 1 Sports is a first-class agency, and our experts are committed to helping their clients achieve success at the next level."
Sanford Sports Performance offers sports and activity-specific training that incorporates the latest in strength development, speed, agility, plyometrics and explosive power. Sanford Sports Performance is incorporated into the training of dozens of high school and college programs throughout South Dakota, North Dakota and Minnesota.
REP 1 Sports, is a multi-sports agency based in Irvine, California. The agency represents some of the biggest names in the NFL, including reigning Super Bowl MVP Cooper Kupp, former No. 1 overall draft pick Jared Goff and Philadelphia Eagles star tight end Dallas Goedert.
Last year, 11 NFL prospects who received pre-combine support from Sanford Sports were selected in the NFL Draft. Over the last three years, 32 Sanford-trained prospects have heard their name called during the NFL Draft.
"Sanford Sports has a proven track record of helping athletes make gains in their performance," said Chase Callahan, President of Football and NFL agent at REP 1 Sports. "I know our athletes will benefit from the support they receive from everyone at Sanford."
2023 NFL prospects with REP 1 Sports include:
Jaren Hall, Quarterback, BYU
Matthew Bergeron, Offensive Line, Syracuse University
Blake Freeland, Offensive Line, BYU
Ryan Hayes, Offensive Line, University of Michigan
Cody Mauch, Offensive Line, North Dakota State University
Dalton Kincaid, Tight End, University of Utah
Luke Musgrave, Tight End, Oregon State University
Jack Campbell, Linebacker, University of Iowa
Daniel Scott, Safety, University of California, Berkeley
Kendall Williamson, Safety, Stanford University
Junior Fehoko, Defensive End, San Jose State University
Spencer Waege, Defensive End, North Dakota State University