Experiencing the NFL Scouting Combine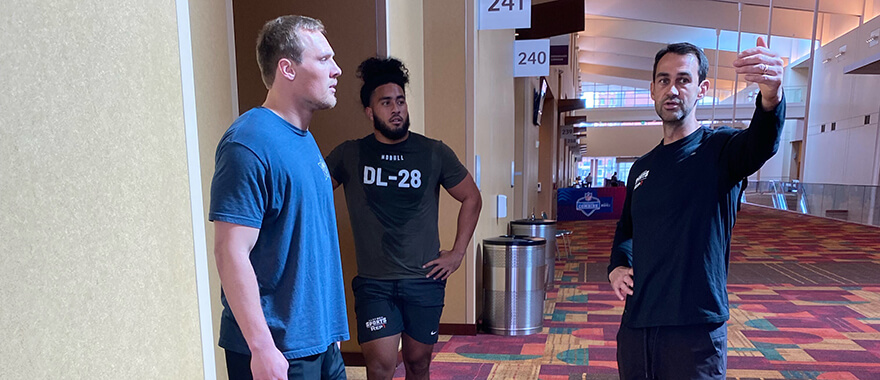 After two months of intense training and preparation, 300 college-standouts travel to the Lucas Oil Stadium in Indianapolis, Indiana to participate in the NFL Scouting Combine.
Curt Truhe, general manager of Sanford Sports in Irvine, California, shares what the combine looks like for our REP1 Sports prospects.
What happens at the combine?
During the four-day event, players have a full schedule of interviews, on-field position work and medical, anthropometric (height and weight) and physical tests. The physical tests include bench press, vertical jump, broad jump, 40-yard dash, three-cone agility (L-cone) and short shuttle drills.
How do athletes prepare once they've arrived?
By the time of the combine, 99.9% of the work is done. Players arrive four days early to prepare.
Day 1: Athletes get moving to reset after the flight.
Day 2: A warm-up is followed by short shuttle and three-cone drills.
Day 3: A warm-up is followed by a 30-yard dash. This is the last time the athletes will try to reach their top sprinting speed prior to their official 40-yard dash.
Day 4: Athletes complete a final warm-up that includes perfecting their starting motions for the 40-yard dash.
What do drills focus on? Does it differ depending on the athlete's position?
By the time athletes get to the combine, we want their focus to be on one thing. They either think about getting to or getting away from something. The more specific they can make that, the better.
If they have one focus, there's less of a chance for them to overthink. Whether it's to bounce off the lines, touch the rim, or float in the air. Usually, drills do not change based on position, but they are tailored to each athlete.
How does Sanford Sports support athletes physically and mentally?
We provide as many resources as possible to our athletes. During the combine, we have a hotel conference room with recovery modalities such as compression sleeves, soft tissue tools and couches. It is also stocked with healthy snacks, meals and drinks.
Sanford Sports also has staff on-site to run workouts, answer questions and put final touches on drills. But the biggest support is just being there for the athletes. Sometimes just having a familiar face and someone to talk to is what they need during this high-stress event.
With the 2023 combine completed, the NFL Draft is almost here. Sanford Sports is proud of our athletes for all their hard work, and we can't wait to see it pay off. The 88th annual NFL Draft will take place April 27-29 in Kansas City, Missouri, and will air on ESPN, ABC and the NFL Network.
---
2023 NFL prospects with REP 1 Sports include:
Jaren Hall, Quarterback, BYU
Matthew Bergeron, Offensive Line, Syracuse University
Blake Freeland, Offensive Line, BYU
Ryan Hayes, Offensive Line, University of Michigan
Cody Mauch, Offensive Line, North Dakota State University
Dalton Kincaid, Tight End, University of Utah
Luke Musgrave, Tight End, Oregon State University
Jack Campbell, Linebacker, University of Iowa
Daniel Scott, Safety, University of California, Berkeley
Kendall Williamson, Safety, Stanford University
Junior Fehoko, Defensive End, San Jose State University
Spencer Waege, Defensive End, North Dakota State University