Rep1 sports prospects ready for NFL Draft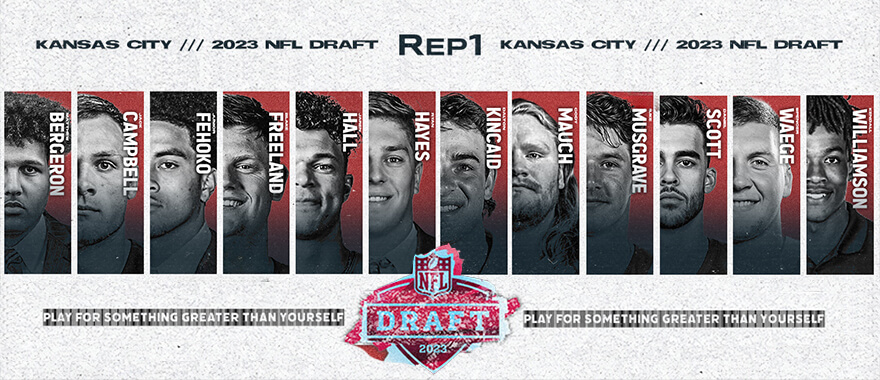 Since the end of their college football careers, our REP1 Sports athletes have trained tirelessly for the NFL Draft. They took part in the NFL Scouting Combine, showcased their skills at their college pro day and completed their final preparations.
Now, the draft is here. It takes place April 27-29 in Kansas City, Missouri. Ahead of the event, our team is looking back at how we got here and giving advice to players chasing the same dream.
Reflecting on the NFL Draft process
At Sanford Sports Performance, we have a plan for the pre-draft process, and it's essential to debrief on how the process went and identify where we can improve. Every year is different based on the athletes, but our goal is to continue improving our methods and processes to help players reach their full potential.
We hope our REP1 prospects look back knowing we did everything in our power to get them ready. We want them to feel confident in their abilities and trust in the work they put in.
Advice for aspiring athletes
The advice we give the REP1 Sports athletes is the same advice we give other players at Sanford Sports Performance:
Embrace the boring. There's nothing overly exciting about soft tissue work, eating properly, taking supplements, or putting in the work in the weight room and on the field, but it's what separates the good athletes from the great athletes.
Consistency is key. It's not just about putting in the work but doing it every day. Developing a consistent routine and sticking to it is what helps athletes reach their goals.
Find a support system. A strong support system is essential. Players need coaches, teammates, family and friends who push them and hold them accountable.
Focus on the process. It's easy to get caught up in the end result, but focusing on the process and what needs to be done each day to get there will ultimately lead to success.
Be open to feedback and always look for ways to improve. Whether it's from coaches or teammates, feedback helps athletes identify areas of improvement and grow.
We wish our athletes the best of luck over the next three days. The countless hours of training, studying and mental preparation they've put in to get to this point make us confident that their hard work will pay off.