Preparing athletes for the NFL Draft Process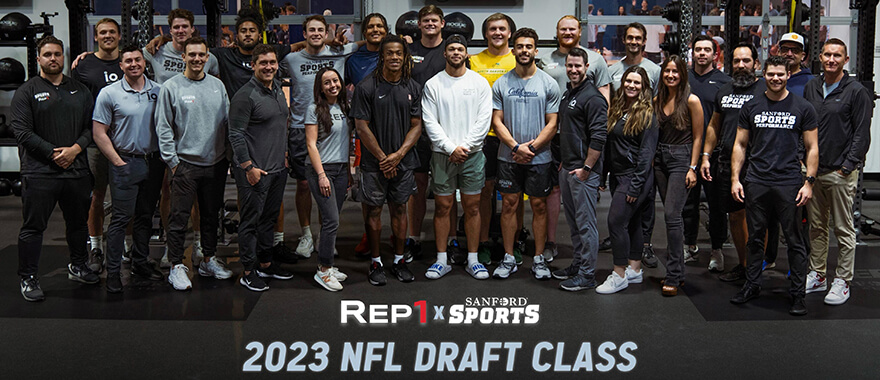 The NFL Draft draws millions of viewers every year as football fans tune in to see how their favorite team will stack up in the coming season. The three-day event gives teams seven rounds to build a roster worthy of the Vince Lombardi Trophy.
As the 2023 draft approaches, Sanford Sports Performance is preparing prospects with REP1 Sports, an agency that represents professional athletes in football, baseball and basketball.
Curt Truhe, general manager of Sanford Sports in Irvine, California, shares how our team gets athletes ready for the biggest step of their career.
Who gets to go to the NFL Scouting Combine?
The NFL Scouting Combine is an invite-only event for the top 300 NFL draft-eligible prospects. For those not invited, there are other opportunities to showcase skills at college pro days or regional combines.
How do you prepare athletes physically for the combine?
The process starts immediately after the athlete's last football game, so there's a small window to prepare. At Sanford Sports, we take a comprehensive approach that can include:
Extensive physicals with sports medicine doctors and performance staff
Blood work
Athlete baseline testing
These evaluations allow us to tailor a program for each athlete's specific strength training, speed and agility, and power training needs. We push our athletes to their limits, so they are ready to showcase their best physical abilities.
The drills at the combine each require a special technique or strategy to perform, and we make sure our athletes understand those techniques and strategies while maximizing their physical potential.
How do you mentally prepare athletes for these high-stakes events?
The mental preparation for the NFL draft process is just as crucial as the physical. To get through the tough moments, we help our athletes:
Manage stress and anxiety
Build confidence
Develop mental toughness and resiliency
What are the biggest challenges during preparation?
The biggest challenges are managing expectations and building trust. With only eight weeks to train, athletes won't see the true results of their efforts until the day of the performance. It's a calculated process, and every detail counts, from sprints to food intake. It requires trust and commitment.
The 88th annual NFL Draft will take place April 27-29, 2023, in Kansas City, Missouri, and will air on ESPN, ABC and the NFL Network.
---
2023 NFL prospects with REP 1 Sports include:
Jaren Hall, Quarterback, BYU
Matthew Bergeron, Offensive Line, Syracuse University
Blake Freeland, Offensive Line, BYU
Ryan Hayes, Offensive Line, University of Michigan
Cody Mauch, Offensive Line, North Dakota State University
Dalton Kincaid, Tight End, University of Utah
Luke Musgrave, Tight End, Oregon State University
Jack Campbell, Linebacker, University of Iowa
Daniel Scott, Safety, University of California, Berkeley
Kendall Williamson, Safety, Stanford University
Junior Fehoko, Defensive End, San Jose State University
Spencer Waege, Defensive End, North Dakota State University