Lessons for young athletes: Freddy Coleman breaks down NCAA's best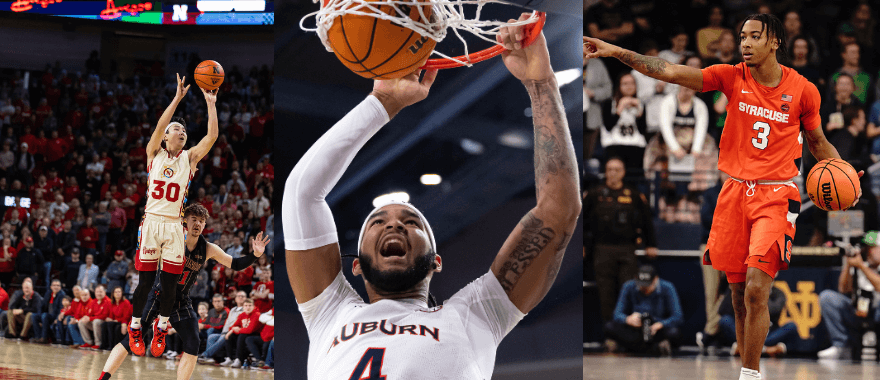 The NCAA basketball season is just around the corner, and fans can hardly contain their excitement. While everyone waits for tipoff, analysts are picking the players to watch during the 2023-24 season.
Three players included in top 10 lists by Andy Katz, a Big Ten Network analyst and NCAA correspondent, will take the court at the Sanford Pentagon this fall:
Freddy Coleman, Sanford Sports Academy basketball manager and former NDSU basketball star, breaks down what makes each of these players successful and what youth athletes can learn from watching them play on TV or on Heritage Court.
Keisei Tominaga: Guard, University of Nebraska
Key attribute – sharpshooter
Tominaga is a name that every defender should have on their radar. When he's given any space, he punishes opponents with a flurry of three pointers. Nebraska will run plenty of action to get him shots, and when the ball finds its way to him, he gets his shot off quickly.
Key takeaway – scoring ability
Tominaga isn't just about three pointers. He's a natural scorer who uses his shooting skills to his advantage. Watch how he uses shot fakes to get past defenders and drive to the rim. His exceptional feel for the game enables him to adapt and not just settle for long-range shots.
Johni Broome: Forward, Auburn University
Key attribute – versatility
Broome is a 6'10" powerhouse who knows precisely where his strengths lie. He's adept at getting to where he's most comfortable, evident by his impressive 53% field goal shooting last season. As a left-handed player, Broome truly excels around the rim, demonstrating his ability to finish with both hands.
Key takeaway – patience
Broome slows the game down to become a more traditional back-to-the-basket player. This patience allows him to make the most of his scoring opportunities.
Judah Mintz: Guard, Syracuse University
Key attribute – team player
Mintz is a three-level scorer with the athleticism to impact the game significantly. He excels when attacking the basket and creating opportunities in the paint. Averaging nearly 5 assists per game last year, he's always looking to involve his teammates.
Key takeaway – defensive skills
Mintz is a game changer on the other end of the court too. He has great anticipation and uses his length to disrupt passing lanes leading to tips, deflections and points for his team. Last season, he led his team with an impressive 59 steals. He's a formidable defensive presence.
The 2023-24 college basketball season promises to be exciting, and Tominaga, Broome and Mintz are poised to leave a significant mark on the hardwood. Keep an eye on these talented players when they take the court at the Sanford Pentagon.