Oregon to face Syracuse in men's basketball at Sanford Pentagon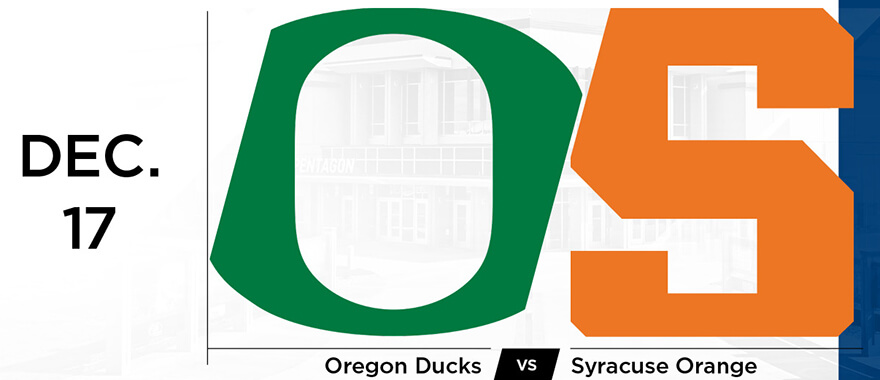 SIOUX FALLS, S.D. – The Oregon Ducks will take on the Syracuse Orange in a non-conference matchup at the Sanford Pentagon in Sioux Falls, South Dakota, on Dec. 17. This is the first time Oregon and Syracuse will compete at the Sanford Pentagon.
Ticket information and game time will be announced later.
"This is a big-time matchup with two of the most recognizable and successful programs in college basketball," said Jesse Smith, vice president of Sanford Sports. "We take a tremendous amount of pride in being able to bring championship-caliber teams from across the country to Sioux Falls and are excited for these two schools to make their Pentagon debut in front of a passionate crowd and incredible atmosphere on Heritage Court."
Syracuse, a member of the Atlantic Coast Conference, begins a new era in the basketball program as Adrian Autry takes over for Hall of Fame coach Jim Boeheim. The Orange rank sixth all-time in NCAA Division I wins and finished last season with a record of 17-15.
"We are excited to play in the Sanford Pentagon against Oregon," said Autry. "I believe this game will help to enhance our non-conference schedule and will be a great game for our players and our program. We are looking forward to the challenge."
Oregon, a member of the Pac-12, finished last season with a 21-15 record. Head coach Dana Altman extended his streak of 20-plus wins to 13 seasons, having won 20 or more games in all 13 seasons at Oregon. He has a streak of 26 consecutive winning seasons as a head coach.
"This is a great opportunity for our program," said Altman. "We are excited to play in this historic venue against an opponent like Syracuse. Our team is looking forward to visiting Sioux Falls."
This year's contest will mark the second all-time meeting between Oregon and Syracuse. The Ducks defeated the Orange 80-65 in the Empire Classic at Madison Square Garden in 2018.
Oregon vs. Syracuse is the second NCAA Division I men's basketball game announced for this season at the Sanford Pentagon. Nebraska will take on Oregon State on Nov. 18.
"Sanford Sports has become a powerhouse in college basketball, and we look forward to continuing this tradition with Syracuse University and the University of Oregon men's basketball," said Lea Miller-Tooley, CEO, Complete Sports Management.
Since opening in 2013, the Sanford Pentagon has hosted more than 80 Division I men's and women's college basketball games. Last December, the Pentagon hosted a rematch of the 2021 men's national championship game between No. 6 Baylor and No. 14 Gonzaga. Two weeks later, defending women's national champions and No. 1 ranked South Carolina defeated South Dakota State on Heritage Court.