Stricker 'honored and privileged to be your champion again'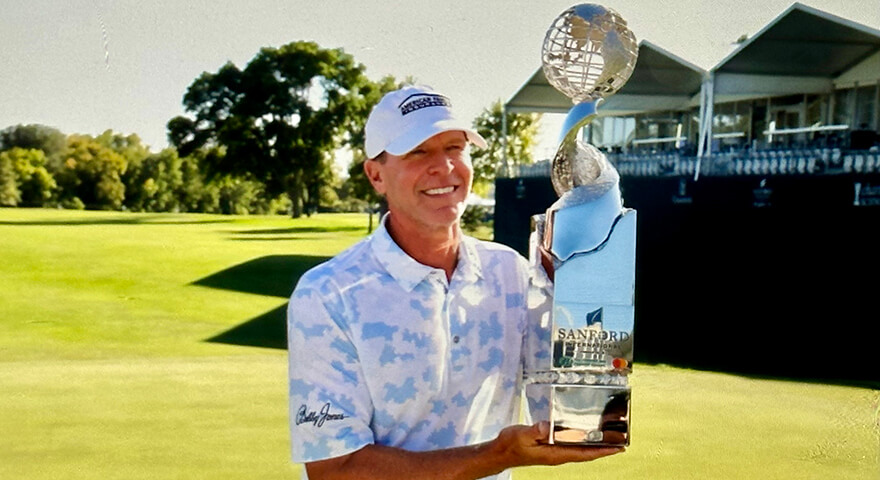 Written by Mick Garry
Steve Stricker won his second consecutive Sanford International and the third of his career on Sunday with a final round 66 at Minnehaha Country Club in Sioux Falls, South Dakota.
This Wisconsin resident's familiarity with the golf course and the community was a common theme this week. Stricker did his part by leaving every day of this three-round tournament with at least a share of the lead.
The 56-year-old won the first-ever Sanford International in 2018, then won it again last year. This win was his sixth of the PGA Tour Champions season and the 17th of his career.
"It's always a challenge," Stricker said. "You're fighting your game. You're fighting your nerves. You're just trying to get it done. It's so rewarding when you do. It's a lot of fun to come here and play and enjoy the area and enjoy the course. You couldn't ask for a better week."
His capacity to excel at the Sanford International matches up with the way he plays in other tournaments. Dating back to his win in the 2022 Sanford International, he has now won eight of the last 17 PGA Tour Champions events he has entered.
He is in the midst of a memorable string of successes. The Sanford International is part of that. Twice.
"You guys put on a wonderful event here – nothing short of first-class," Stricker told the crowd gathered on the 18th green after his victory. "It's truly a joy to come here and play."
Stricker ignited his closing rush with a long putt for birdie on No. 9. He followed with an eagle 3 on the par-5 No. 12. He went on to birdie 15 and then took the lead with another birdie on the par-5 16th.
K.J. Choi, playing in the group ahead of Stricker, finished with a 65 and took second at 15-under. Joe Durant finished at 13-under, and 66-year-old Bernhard Langer closed with a final round 64 and was fourth at 12-under. Distinctively calm conditions ruled the day. It was just a matter of taking advantage of them.
"A friend that I've gotten to know here over the years told me, 'See? The wind doesn't always blow in South Dakota,'" Stricker said. "Today it was a beautiful day. There was hardly any wind. It almost makes it harder sometimes when you have such pure conditions that you feel like you should make birdies. You can get a little aggressive with shots and sometimes that can get up and bite you every once in a while."
The three-time champion has developed an affinity for the tournament crowds, and why not? He tends to win when they watch him play golf.
"All the fans who come out here and support us – it's truly a pleasure to play in front of people who enjoy the game and respect the players. It looks like you're all having a lot of fun," Stricker said as he accepted the trophy. "It takes a whole bunch of people to make this work and to make the kind of money you can make for the community and for the children's hospital at Sanford. I'm so honored and privileged to be your champion again. I'm looking forward to coming back next year."