Stricker, Choi end Day 1 with round that ties course record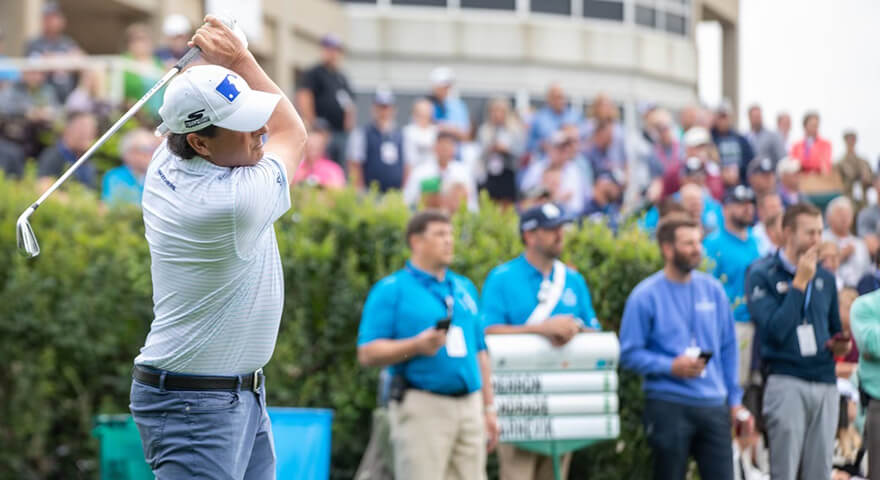 By Mick Garry
Steve Stricker entered this year's Sanford International as the undisputed favorite to repeat as champion. The 56-year-old resident of Madison, Wisconsin, has won the tournament twice before and has been storming through the 2023 PGA Tour Champions season like few have ever done in the past.
On Friday, his opening round 8-under 62, which included a string of five consecutive birdies on the back nine, put him in a tie with K.J. Choi on a relatively calm day at Minnehaha Country Club in Sioux Falls, South Dakota.
Stricker, who leads the Champions money list by almost $2 million and has won five events this year, birdied nine of his first 14 holes overall. The 16-time PGA Tour Champions winner was part of one of the day's most popular pairings with former Sanford International champions Darren Clarke and Miguel Angel Jiménez also in his group.
He rewarded his followers with a round that tied the course record.
"I hear a lot of 'Go Steve' and 'Keep it going' – a lot of positive talk from the crowd each day," Stricker said. "We had a great day to play, too. The fans came out – it was a good atmosphere. It was fun to play here in front of them all."
Choi, a South Korean who began playing in PGA Tour Champions tournaments in 2020, birdied six of his last 10 holes to join Stricker at the top of a crowded leaderboard. David Toms joined a group of four others, including former International champions Clarke and Rocco Mediate, one shot back at 63. Twenty-one golfers shot 66 or better and 33 players are within five shots of the leaders.
"The golf course was a little more receptive today than it was during the pro-am yesterday," said Toms, who has a streak of four consecutive top-10 finishes coming into this event. "We had some very tough conditions yesterday – it was very windy and the golf course got pretty firm. The rain overnight softened things up and we didn't have a lot of wind today, which is a little unusual for here. You could tell by the scores."
Sioux Falls resident Ryan Jansa, playing in his first-ever PGA Tour Champions event, shot a 1-under 69.