Stricker takes close lead in second round of Sanford International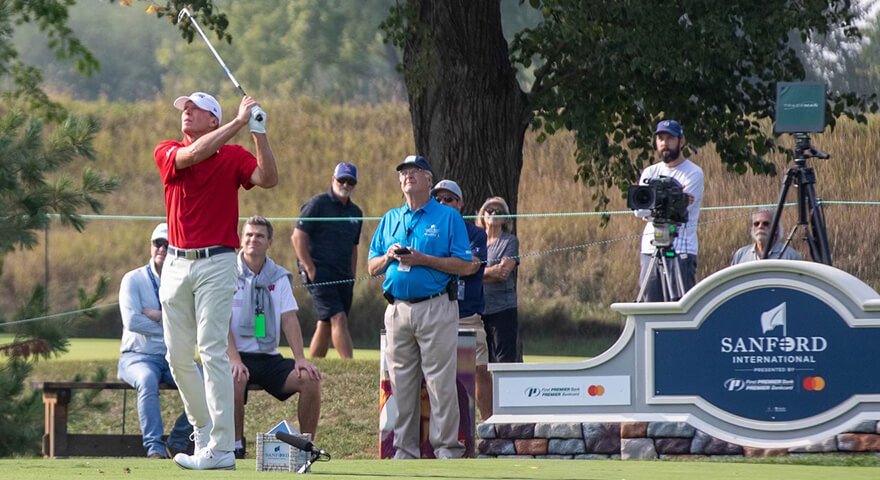 Written by Mick Garry
A wild Saturday at the Sanford International sets up what could be an even wilder Sunday at Minnehaha Country Club in Sioux Falls, South Dakota.
Steve Stricker, a fan favorite who has won this tournament twice, shot a 4-under 66 and is at 12-under, birdieing the 18th hole to a stadium-like roar of the crowd to put him in position to win his sixth PGA Tour Champions event in 2023.
That putt gave him a one-shot lead over Joe Durant and David Toms. Another shot back at 10-under are John Daly, Robert Karlsson and K.J. Choi.
"It's fun, a lot of fun," Stricker said. "I wouldn't want it any other way. To try to come out here and compete and try to win – if I play well enough I know I'll have an opportunity to win. That's what makes it fun, that's what makes me work at this at home."
Toms, who started the day one behind Stricker and Choi, birdied three consecutive holes on the back nine, delivering just when it appeared he was slipping behind the leaders.
"I looked up there and there are a lot of guys who are within a few shots of the lead," Toms said. "It includes guys who might be teeing off an hour-and-a-half before the leaders. I'm going to have to go out there and play really well. If the wind lays down a little bit (Sunday) it will be a shootout and a lot of fun for the fans."
A lot of fans follow Daly around at the Sanford International regardless of how well he's playing. When he's playing well, it gets a little nuts out there. That was definitely the case on Saturday.
On Friday night Daly was part of a concert, teaming with Jocko Deal at the Pentagon to open for headliner Jake Owen. On Saturday he was making more music – and drawing another large crowd – with a round highlighted by eagles on the par-5 4th and the par-5 12th.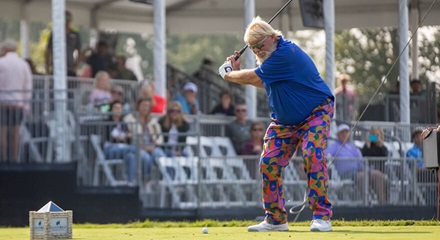 "The Sioux Falls fans have always been great," he said. "Everywhere I go they've been so supportive. It's just good to play a decent tournament for them."
Clearly, a night on stage with his guitar did nothing to affect his ability to make putts.
"We had a blast," Daly said of the Pentagon concert. "Jake Owen is one of my best friends and that was the sixth or seventh time this year I've done a show with Jocko. He's my best friend. It was great that we were able to set this up with Davis (Trosin, tournament director). … It was a great night."
With seven golfers within three shots, the final round could play out similar to the second round with the leader changing every few minutes for most of the afternoon. That would be fine with Durant, whose 64 tied Daly for the best round of the day.
"Every guy out here would tell you what a privilege it is to be playing golf at this age," Durant said. "I'm with my friends I've had all these years and Hall-of-Fame guys. We're having a great time – it's still very competitive and we all still want to win. We're grinding like nobody's business but at the end of the day we shake hands and we go have a beer. It's great to be a part of this. I just love every minute."
Sioux Falls resident Ryan Jansa carded his second consecutive 69 and is 2-under at 138.