Sanford International: What to expect at this year's golf tournament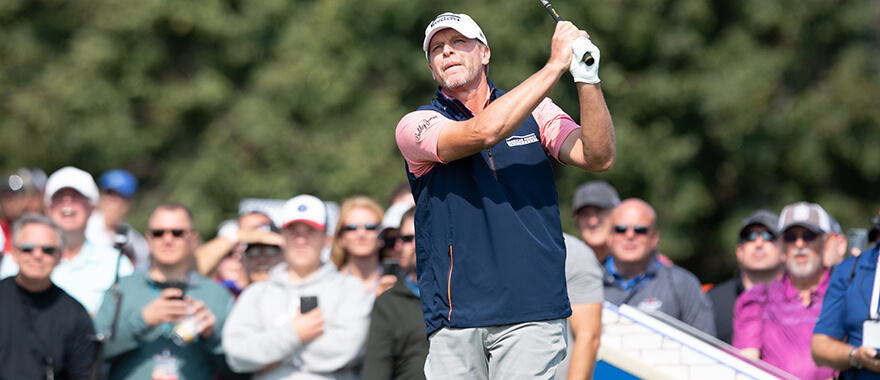 By Mick Garry
Steve Stricker is the returning champion at the Sanford International and is the only player in this PGA Tour Champions tournament to win it twice.
The 16-time winner on the Champions Tour – who won 12 times on the regular tour – returns as an obvious favorite based on his performances at Minnehaha Country Club, where the best 50-and-over golfers in the world will be competing for a total of $2 million.
His legacy of success travels far beyond the Sanford International, especially the last two seasons. The 56-year-old Wisconsin resident has won an amazing five PGA Tour Champions tournaments during the 2023 season, including three of the tour's majors.
Since 2000, only Bernhard Langer (seven wins in 2017) and Larry Nelson (six wins in 2000) have won more PGA Tour Champions tournaments in a single season than Stricker, who leads the Tour's Charles Schwab Cup standings by nearly $2 million with seven tournaments remaining.
No. 2 in Cup standings is Langer, the 66-year-old who won the 2023 U.S. Senior Open this summer for his 46th victory since turning 50. Langer, a member of the Sanford International board and two-time Masters winner, is one of nine of the top 10 in Schwab Cup standings who will be trying slow Stricker down this week at Minnehaha Country Club.
"You look at a guy's game and if you see that he drives it in the fairway, hits greens and is a good putter – and you don't many mental mistakes – you're probably going to do OK," said Andy North, a two-time U.S. Open champion who is a member of the Sanford Health board of trustees. "That's how Langer has played for 20 years. Steve is in that same mold. He is going to win a lot more tournaments before he's done playing. The key is to keep him excited about coming out and playing golf."
The field will include former Sanford International champions Darren Clarke, Miguel Angel Jiménez and Rocco Mediate and multiple-major winners Ernie Els, John Daly, Lee Janzen, José María Olazábal and Retief Goosen.
"The guys really enjoy playing this golf course," said North, a longtime TV commentator for ESPN. "You have to play a lot of different kinds of shots. It's kind of like the golf courses that most of these guys grew up playing on tour. It's not one of these 7,800-yard courses where you blast it all over the place. You have to play shots. You have to think your way around this course, something that these guys appreciate as they get older."
Other highlights include Friday night's Sanford International Live! Jake Owen Concert at the Sanford Pentagon. Daly, a singer and guitar player in addition to a crowd favorite at the golf course, provides the opening entertainment.
Following Saturday's second round, the second annual Contest of Champions BBQ presented by the South Dakota Beef Industry Council will take place on the Minnehaha Country Club driving range with live music provided by Jocko Deal.
This year's free event features five competitors, all smoking brisket for the public to eat and then rate their favorite. The contest is free to attend for all patrons. In addition, the Sanford International will open its gates for free after 4:30 p.m. for anyone in the community who would like to participate in trying and rating the barbecue.
The tournament concludes Sunday with the winner taking home the Sanford International trophy.
General admission concert tickets to Sanford International Live! featuring Jake Owen at the Sanford Pentagon, which include grounds access to the opening round of the Sanford International, are $65. Grounds access tickets, without concert access, for Friday, Saturday and Sunday of the Sanford International are $20.