U.S. Women's Deaf National Team wins world championship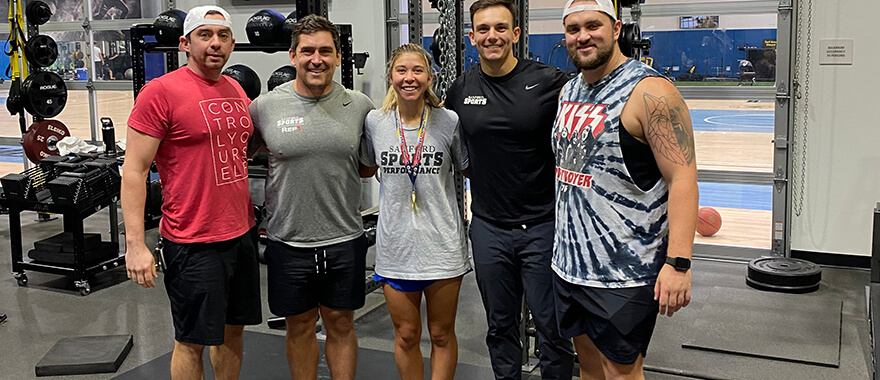 The U.S. Women's Deaf National Team (USWDNT) has won its third consecutive Women's Deaf Football World Championship after taking down Turkey 3-0.
Forward Emily Spreeman, who trained with Sanford Sports leading up to the competition, took home two individual awards in addition to a gold medal.
Becoming the best
Earlier in 2023, Spreeman wanted to get in the best shape possible for the international soccer tournament and found Sanford Sports Performance fit her needs as an elite athlete. She began training in April and worked with experienced personal trainers over the next several months.
"I wanted to find a gym with trainers that specialized or geared more toward sports performance," she said. "Each trainer I had was great. They really took the time to teach me, and they were motivating and pushing me to always do my best."
Spreeman said she felt comfortable at Sanford Sports and would recommend it to other elite athletes.
"I wanted a gym that understood exactly what I needed to succeed and accomplish my goals," she said. "Every gym has a certain feel to it. At Sanford Sports, I felt like everyone – from the trainers to the other athletes – was committed to helping me achieve my goal to become my best self. It felt like a community."
After her training, Spreeman traveled to Kuala Lumpur, Malaysia, to compete in the first round of the Women's Deaf Football World Championship on September 23 where the USWDNT shut out Japan 8-0. They went on to shut out Turkey 9-0 and England 4-0 before going 2-1 with Poland and 10-1 with England in the semifinal.
In the final on October 6, the USWDNT shut out Turkey again.
"It's always great when you can get a shutout, especially in the championship game," Spreeman said. "There were times when Turkey had some quality chances. I had faith in our keeper and team that we wouldn't let it rattle us. We kept pushing until the final minute!"
Spreeman scored 13 goals in the tournament, earning her the Golden Boot (most goals) and Golden Ball (best player) awards.
"It's an honor to win those awards, which I consider to be recognition for the hard work and dedication I put in," she said. "But it also wouldn't have been possible without my teammates. I wouldn't be here without them and their support on and off the field."
Spreeman enjoyed playing soccer on another international stage.
"Getting to spend three weeks with the team playing the sport we love and winning while we do it is always fun," she said. "You get to meet people all over the world, get to know different cultures and learn sign language in different languages."
Soccer from the start
At just four years old, Spreeman began playing soccer in her hometown of Ventura, California. She first made the USWDNT at age 13 when they took home a gold medal at the Deaflympics in Australia.
As she grew up, Spreeman won countless awards and titles, including Ventura County Female Soccer Player of the Year and four U.S. Youth Soccer National Championships. After high school, her talents took her to the University of Kansas where she was named the Big 12 Newcomer of the Year and an All-American.
When asked what advice she had for young athletes, she said, "Live in the moment. Try to be the best athlete and person you can be every day on and off the field and enjoy every second."
Spreeman has her eye on the next gold medal. She will continue training with Sanford Sports to prepare for the 2025 Deaflympics in Tokyo, Japan. After that competition, Spreeman will retire from the USWDNT.
Sanford Sports Performance provides personalized training for everyone. Whether you're an elite athlete or just want to stay fit, our team will help you enhance your speed, power and recovery. Contact us to get started.