Practice your golf swing on your lunch break at Great Shots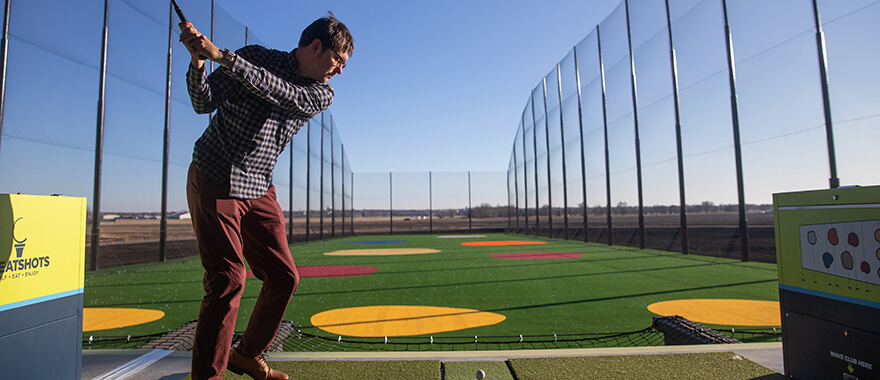 Is it tough to find time to practice your golf swing? The more you practice, the more you'll perfect your game. But if you are looking for an easy way to add a quick session into your busy schedule, we have the solution.
Instead of eating lunch at your desk, spend your break at Great Shots, a state-of-the-art driving range that puts your long game to the test. You can golf and eat in just one hour.
Great Shots practice lunch schedule:
Drive to Great Shots: 10 minutes
Practice your golf swing: 30 minutes
Enjoy a delicious lunch: 10 minutes
Drive back to work: 10 minutes
Golf on weekdays
Golfing during a non-peak weekday is more affordable at Great Shots than at a traditional driving range. This estimate factors in hitting 50 to 100 golf balls in 30 to 60 minutes. Check out the hours and rates here.
Break for lunch
Great Shots has quick lunch options for everyone, including salads, pizzas, sandwiches, pastas, rice bowls and more. Check out the full menu.
Assess your game
Great Shots has the latest golf technology in each bay to track, analyze and quantify your improvement. Download the Toptracer app on your phone and log in to the Toptracer30 (T30) game, which consists of 30 shots. The app will generate your estimated performance handicap, game score and personalized insights.
Tips to improve your game
Here are a few tips to help you improve your T30 score and overall golf game:
Avoid out of bounds, penalty areas and recovery shots. Adjust your aim and shot strategy to avoid these areas, and you'll see significant performance improvements. For example: If there's a penalty area down the left side of a fairway, aim toward the right rough to play it safe. On approach shots, adjust your aim so water hazards are not in play.
Look at your T30 insights. Your insights represent big opportunities for improvement.
Learn about your own tendencies. Other Toptracer games like My Practice will help you learn what your dispersion looks like with different clubs. Use this knowledge to adjust your strategy appropriately and hone in your short game.
Take your game to the next level
Share your T30 results with a Sanford Sports Academy coach who will help you develop practice plans to address your areas of improvement. Regularly play the T30 game to ensure the practice plan is working.