New program increases strength, speed of baseball pitchers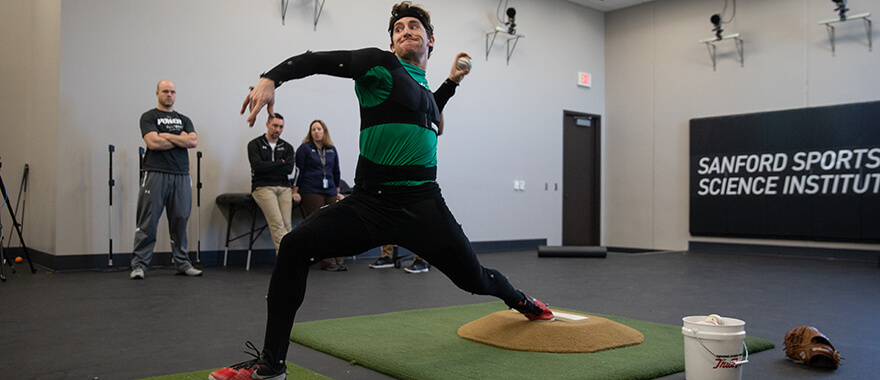 Last fall, the team at Sanford Sports offered a first-of-its-kind performance program for baseball pitchers in the Sioux Falls region.
The program combined sports science, performance training and academy coaching to help improve player performance ahead of the next season. Staff routinely monitored progress throughout the program to ensure proper development and safety of each athlete. In addition, pitchers completed pre- and post-program sports science assessments to determine the program's overall success.
Pitchers who participated in this program saw increases in lower and upper body power and mechanical improvements, which all led to significant changes in fastball velocity at the end of the program. Most importantly, no pitcher suffered a throwing-related elbow or shoulder injury.
These results highlight the importance of having a multidisciplinary staff of diverse backgrounds focused on the common goal of safe athletic development and improved performance for athletes.
Planning and executing a sucessful pitching program
Prior to starting the program, each athlete received a comprehensive assessment of their strength and power, arm and shoulder health, and pitching biomechanics using state-of-the-art technology and cutting-edge research conducted by staff at Sanford Sports.
Using this information, the comprehensive Sanford Sports team tailored training and drill packages to each player based on their specific needs.
Pitchers then completed 12 consecutive weeks of training from October-December. The program consisted of two strength and conditioning sessions per week with a Sanford Sports Performance certified strength and conditioning specialist and three throwing skill sessions per week with a Sanford Sports Academy pitching coach.
Results show benefits of offseason training
Eleven pitchers completed the full program. Results were determined from pre- and post-biomechanics testing performed in the Sanford Sports Science & Biomechanics lab. Findings included:
For the entire group, the average fastball velocity (the speed of a given pitch at any point from its release to the time it crosses home plate) increased 4.1% to 2.94 mph.
9 out of 11 individuals (81%) increased their fastball velocity by over 2.5 mph.
6 out of 11 pitchers (54%) saw increases of 3.5 mph or more.
8 out of 11 pitchers (72%) hit a personal record (PR) in velocity.
Lower body power increased on average by 5.7% (determined by countermovement jump power).
Upper body power increased on average by 5.9% (determined by medicine ball throw speed).
Over half of the group made positive mechanical changes (determined by optical motion capture).
No throwing-related elbow or shoulder injuries occurred.
If you or your athlete is interested in learning more about any of our comprehensive services including performance, sports science or the academy, get in contact with one of our experts today.