Sioux Falls Basketball Tournaments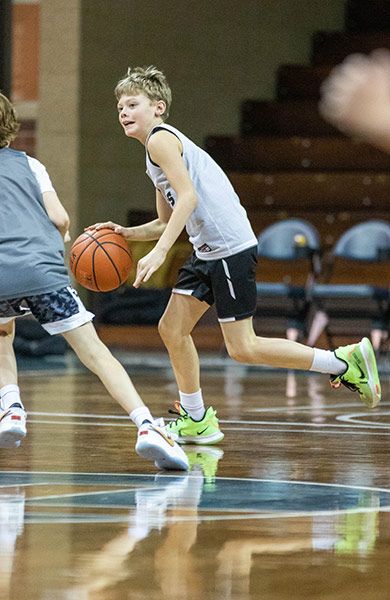 Looking for tournaments?
We have a great facility, with great competition.
Registration for our Fall/Winter Tournaments is OPEN. Our Fall/Winter season runs from November - February and our Spring/Summer season runs from April - July.
Sanford Health certified athletic trainers provide coverage at all tournaments.
2023 Pentagon Fall/Winter Basketball Tournament Schedule
4th-8th Grade Girls and Boys
Holiday Hoops | December 16
Blizzard Blowout | January 20
President's Bowl | December 28 - 29
Heat Up the Hardwood | February 17 - 18
5th-8th Grade Girls and Boys
Tip-Off | November 11
Backboard Bash | December 2
Winter Slam | January 6
Rim Rocker | February 10
Pentagon Youth Winter Tournament Policies
Payment may be made with this registration or check via mail. If you are mailing a check you will still complete this registration and select pay offline at the payment page, your team(s) will be accepted into the tournament once payment is received. You will receive an email once payment is received.
Registration/Payment Deadlines: Three weeks prior to tournament date. No teams will be accepted past this point unless decided upon by the tournament director in order to fill divisions.
Refunds will be made up to the tournament deadline (three weeks prior to the event). If a tournament is canceled due to inclement weather teams will be fully refunded.
Based on the number of teams registered, divisions may be combined
3 game guarantee
Tournaments will start at 8:00 a.m., please be prepared to play at any time, we will try to accommodate teams traveling from further distances to not play first games; however, we do not guarantee meeting all team's needs
Two referees provided per game
For Winter/Fall tournaments ALL division's will use a women's basketball
4th - 6th Grade: 16 minute running halves
7th - 8th Grade: 18 minute running halves
Pentagon Summer Club Tournament Policies
All Sanford High School Club Tournaments will follow National Federations High School Rules with the following exceptions:
The scheduled game time is forfeit time. Games will not start more than 5 minutes prior to the scheduled start time with the exception of the last scheduled game of the day which can begin earlier if both teams and a coach are present.
9th – 11th Grade Divisions will play 16 minute stop time halves
7th- 8th Grade Divisions will play 14 minute stop time halves
4th- 6th Grade Division will play 12 minute stop time halves
The women's sized basketball will be played in all girls divisions and boys 5th- 7th grade divisions.
The men's sized basketball will be played in all boys 8th – 11th grade divisions.

Each Player is grated 6 personal fouls before being disqualified.

Bonus free throws will be shot on the 10th team foul of each half. No double bonus.
The clock will run continuously if a team has a 20+ point lead in the 2nd half. The clock will continue to run until the lead is below 15 points.

OVERTIME Period- The Elam ending will be utilized in overtime with the first team to score 5 additional points (12U and up) & 3 additional points (11U and down) in overtime declared the winning team. The overtime period will be untimed.

3 full team timeouts per game no carry over to overtime. No additional timeouts are granted in overtime.

3 minute halftime intermission

A minimum of 5 minutes warm-up time between games.

A certified trainer will be available in the training room located by Court 8
Pool Play Tie Breaker
Head to head
Point differential with a 15 point MAXIMUM per game
Points allowed
Each Team Must Provide
Their own uniforms with numbers clearly marked
A score keeper or timer for each game player
Grade Divisions
Player may only compete on one team and in one age division
Teams and athletes must be registered in the grade division that their oldest athlete was enrolled during the current school year.
Athletes must have been in the grade this year to play in a designated division.
Athletes may move up a division but may not play in a lower grade division if they were not enrolled in that grade during the 2022-23 school year
The Sanford Pentagon is the first multi-sport club facility in the country to utilize Hudl Focus cameras and offer Hudl services to all its basketball and volleyball teams. It's all part of a club-wide subscription that includes Hudl's coaching tools, Hudl Assist's stat breakdowns and Focus smart cameras, which will allow parents and fans to livestream games and practices.
Hudl Focus cameras will allow for live streaming of all volleyball tournaments through the Sanford Pentagon video portal. Production level and pricing may vary.
Hudl's club-wide package gives every team access to the same cutting-edge video analysis and recruiting resources. Coaches have the ability to self-scout their own game and practice film, then use customized feedback to teach their team off the court. When players have the chance to learn from video, they'll be better equipped to develop their skills on the court and reach the next level.
Food
Blue Rock Bar and Grill
Blue Rock Bar & Grill offers a fresh menu and unique dining spaces to make your next pre-game meal, date night, lunch or happy hour an experience that rocks.
Learn More >
Great Shots
Fuel your fun with amazing food and drinks from the full-service restaurant and bar at Great Shots. Chow down on a variety of breakfast, lunch and dinner options.
Learn More >
Stay
Fairfield Inn & Suites
Located mere feet from the Sanford Pentagon, the Fairfield Inn & Suites by Marriott offers convenience and comfort to visiting athletes, teams and fans.
Book Now >
No outside food/drink (refillable water bottles and coffees are permitted).
No outside balls, all game and warm-up ball will be provided.
Live video streaming is prohibited. The Sanford Pentagon offers a live stream here.
All video recording and photography must be done on the concourse and will not be allowed on team benches.
Only two coaches per team plus athletes are allowed on team benches per game.
Lost children will be escorted by staff to the main office located south of the men's bathroom.
Lost and found will be kept at the main office located south of the men's bathroom.
Service animals are permitted in the Sanford Pentagon. The Americans with Disabilities Act (ADA) defines a service animal as a dog, of any breed or size, trained to perform a task directly related to a person's disability.
Strollers are not allowed in the facility during Skyforce games due to NBA rules, when a tournament is not coinciding with a Skyforce game strollers are permitted in the facility.
Code of Conduct: The Sanford Pentagon will strive to provide a competitive, safe, and quality atmosphere for players, coaches, fans, and referees. It is expected that everyone will follow the rules of the game, respect referees and opposing teams, and maintain good sportsmanship. If a patron is causing a disturbance to the game or other spectators, at the discretion of the event supervisor, they may be asked to exit the facility.