The Sanford Pentagon: A Basketball Fan's Paradise & Host to NCAA Tournament Contenders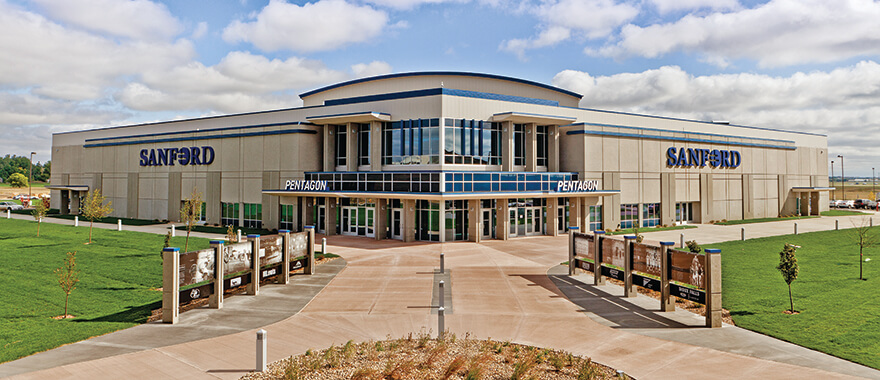 If you're a college basketball fan, you may have heard of the Sanford Pentagon, located in Sioux Falls, South Dakota. The Pentagon is the cornerstone of the 500-acre complex - a 160,000 sq. ft. venue that hosts tournaments, competitions, academy programs, concerts, special events and more.
Heritage Court at the Pentagon has hosted over 80 Division 1 basketball games since 2013. Sixteen of the programs in this year's NCAA men's and women's tournaments have played there in past seasons, with four teams playing there this season alone.
Gonzaga and Baylor faced off in the inaugural Peacock Classic men's basketball game at the Sanford Pentagon this season, with Baylor edging out Gonzaga 64-63. Baylor coach Scott Drew spoke highly of the environment and the packed-in atmosphere at the venue.
South Carolina and South Dakota State also played at the Pentagon this season, and both women's programs have played there in previous seasons as well. Dawn Staley, the head coach of the defending national champion Gamecocks, had this to say about playing at the Pentagon in a recent interview, "It's a great place to play. It's intimate, it's got a great vibe. Our fans show up and show out when we come to South Dakota."
Additional men's programs that have shown out on Heritage Court in past seasons include Creighton, Iowa, Nevada, Saint Mary's, Utah State, VCU, West Virginia, Iowa State and Oral Roberts.
Oral Roberts won the Summit League tournament at the Pentagon in 2021 and went on to make a Cinderella run to the Sweet 16 in the 2021 NCAA tournament.
Other programs in the women's bracket with a history of playing on Heritage court are Gonzaga, Louisville and Arizona.
After hosting many talented teams, it's no wonder the Pentagon has become a favorite among college basketball fans- with the Sanford Sports Complex bringing in more than 2.4 million visitors annually.