Sanford Pentagon, Sioux Falls Skyforce reach home venue extension agreement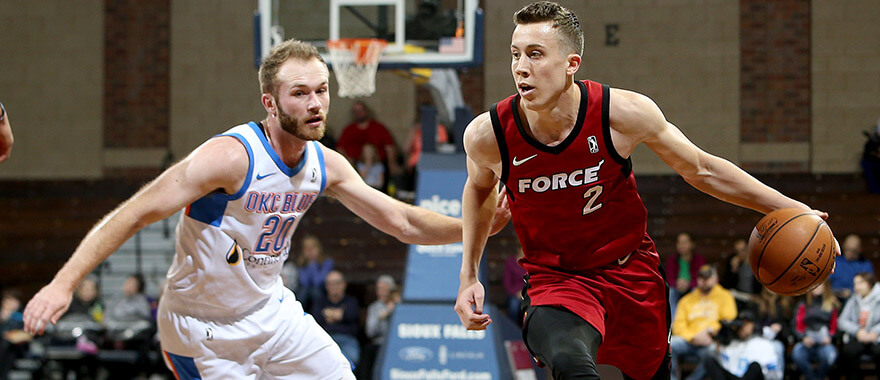 The Sanford Pentagon will continue to be the home of the Sioux Falls Skyforce, the NBA G League affiliate of the Miami HEAT, following a five-year extension agreement.
In addition to serving as the home venue for the Skyforce, the Sanford Pentagon – through Sanford Health – provides sports medicine coverage, physical therapy services, athletic testing and nutrition plans.
"The Skyforce has been a staple of the Sanford Pentagon since its opening, and we take immense pride in providing the organization the most unique and sophisticated experience in the NBA G League," said Jesse Smith, vice president of Sanford Sports. "I want to thank Mike Heineman, the Sioux Falls Skyforce and the Miami HEAT for continuing this partnership and their appreciation for the value we provide the team – from sports medicine to fan experience."
Since 2013 when the Skyforce started its affiliation with the Miami HEAT, 37 players who suited up for Sioux Falls have earned NBA Call-Ups, including 17 to the HEAT. During that timeframe, the HEAT transferred 19 players from Miami to Sioux Falls. Four Sanford Health employees who supported the Skyforce through sports medicine and athletic training have been hired to work full-time for the Miami HEAT.
"Our partnership with Sanford Health has been an important part of the Miami HEAT/Sioux Falls Skyforce development system," said Andy Elisburg, executive vice president of basketball operations/general manager of the Miami HEAT. "We are excited for the Pentagon to be the home for the Sioux Falls Skyforce for the next five years."
"Working with Jesse Smith and the entire Sanford Pentagon staff over the last ten seasons has been nothing short of amazing," said Mike Heineman, president of the Skyforce. "Having the employees of the Pentagon care about our success as much as we do is invaluable. To say we are proud to call the Sanford Pentagon home is an understatement." The Skyforce, who are celebrating their 35th anniversary season, begins their eleventh season at the Pentagon with their home opener on Nov. 11 against the Indiana Mad Ants.