Amy Olson and Sanford Sports hosting golf clinic and luncheon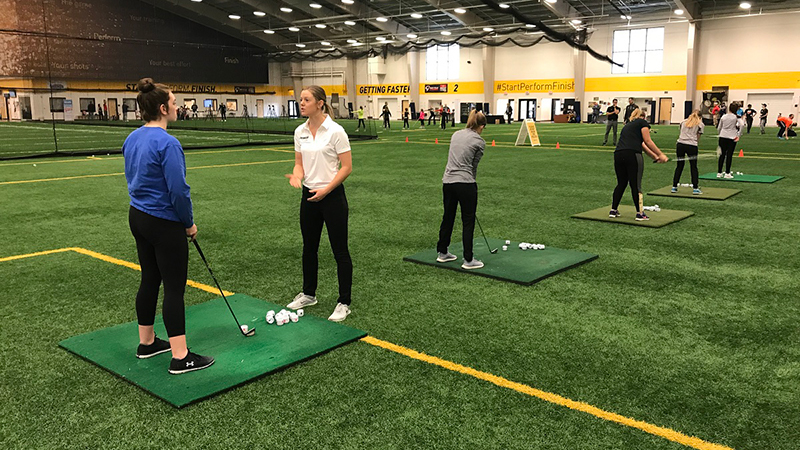 Professional golfer and NCAA career-leader in golf victories Amy Olson is teaming up with Sanford Sports to host the inaugural Amy Olson Golf Clinic in Fargo, ND, presented by Sanford Sports Academy.
The event takes place on Monday, August 7, from the Village Green Golf Course in Moorhead, Minn. and costs $75. Proceeds from the event will go towards the Sanford Sports Academy Scholarship Foundation.
The golf clinic begins at 10:30 a.m. and is available for participants of all ages and skill levels. Golfers need to bring their own golf clubs. A luncheon will follow the clinic and will feature a question and answer session with Olson, where she will share her experiences playing on the LPGA Tour and how golf has impacted her life.
"Golf has played a huge role in my life, and I'm hoping that by sharing some of my personal experiences, it will help kids realize they can do anything they work hard at, as well as help adults grow their love of the game," said Olson.
Olson, a native of Oxbow, N.D., won the 2009 U.S. Junior Girls Amateur Championship and played collegiately at North Dakota State University, where set a NCAA women's golf record with 20 wins. She is the only four-time Summit League Golfer of the Year in league history. Olson earned her LPGA Tour card in 2013 and in 2018, picked up her first top-10 finish at the ANA Inspiration. In 2020, Olson finished in second place at the U.S. Open. Earlier this month, Olson participated in the U.S. Open while being seven months pregnant.
"We are excited for golfers of all ages to learn from the best golfer that North Dakota has ever produced," said Steve Young, Sanford Sports president. "Amy is such a great role model for aspiring golfers, and Sanford Sports is lucky to partner with someone who exemplifies such class and hard work ethic, both on and off the course."